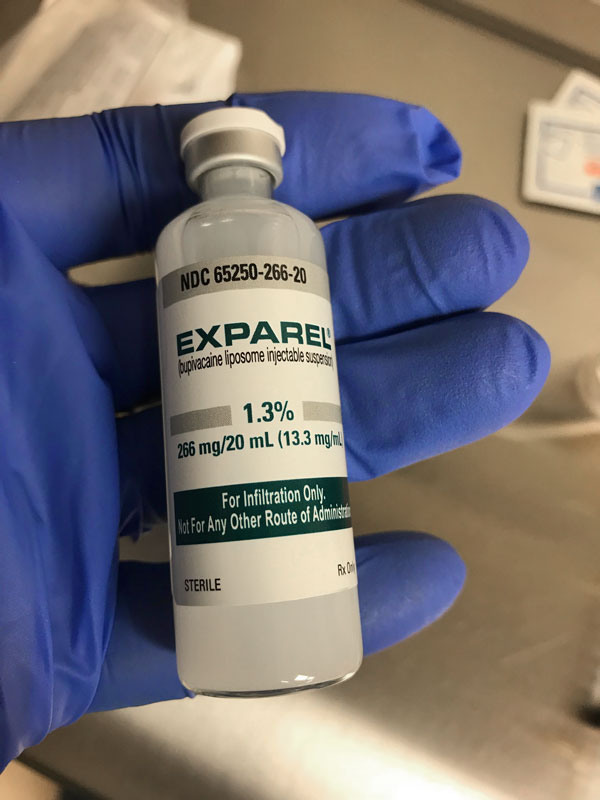 22 Apr

Low- or No-opioid Pain Control is Possible

Who wants pain after surgery? No one. And the anxiety is huge when it comes to thinking about post-operative pain. There are several things a surgeon can do to reduce post-operative pain and one of the best is the use of EXPAREL®.

EXPAREL® is a local anesthetic injected into surgical sites. It is a bupivacaine liposome injectable suspension causing several days of numbness and pain relief at the surgical site. It accomplishes this by turning off the body's pain signals to the operative area where the medication is injected.

Most local anesthetics (2% lidocaine, 0.5% bupivacaine) can give patients four to six hours of pain relief but EXPAREL® works way beyond this short time frame and will get patients through the acute pain period offering pain relief for three to four days. Yes, days. The best benefit of this medication is that prolonged pain relief reduces and in many cases eliminates the need for opioid use (no narcotics after surgery). This is of particular benefit for patients who are at risk of adverse events using opioids and also reduces the risk of abuse and dependency.

Less opioid use is a win. As physicians, we are obligated to decrease opioid use. Seven percent (7%) of patients exposed to opioids will go on to addiction. With the number of surgeries I perform and exposing my patients to opioids, this is a cause for concern and a risk that I want to reduce in my surgical patients.

Use of EXPAREL® has changed the way I treat post-surgical pain. I have used EXPAREL® over the last eight years on approximately 2000 surgical patients. When I first started using this medication I would prescribe opioids as a "just in case" measure. What I noted very quickly with my patients was, they were not needing the opioid medications after surgery at all. Many patients reported little to no pain and did not take any sort of post-operative medication and some would require a pain medication like over the counter Tylenol.

The biggest win, no narcotic use after foot and ankle surgery.

I use EXPAREL® routinely on all of my surgical patients. As a result, my patients have a much more pleasant and pain-free post-operative experience. When you schedule surgery, be sure to ask me about EXPAREL®.

Remember, at Strash Foot & Ankle Care, I am committed to providing you only the best care — give our office a call, today.